Latest News
26-02-2009
Article Graphic Showbiz: Who are these women?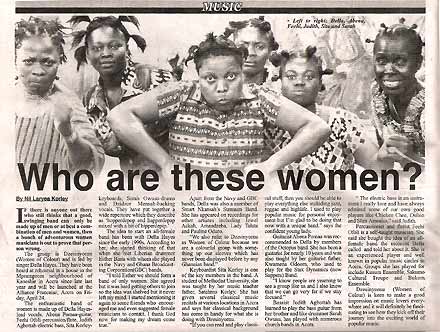 Who are these women?

By Nii Laryea Korley

If there is anyone out there who still thinks that a good, swinging band can only be made up of men or at best a combination of men and women, then a bunch of adventurous women musicians is out to prove that person wrong.

The group is Dzesinyornu (Women of Colour) and is led by singer Della Hayes. They have been heard at rehearsal in a house in the Mprampom neighbourhood of Kaneshie in Accra since late last year and will be launched at the Alliance Francaise, Accra on Friday, April 24.
The enthusiastic band of women is made op of Della Hayes-lead vocals, Abena Pooma-guitar, Feehi Ofoli-percussion/flute, Judith Agbottah-electric bass, Sita Korley-keyboards, Sarah Owusu-drums and Dzidsor Mensah-backing vocals. They have put together a wide repertoire which they describe as hippidippip, which has its roots in r&b, jazz, funk and Ghanaian high life.

The idea to start an all-female band has been with Della Hayes since the early 1990's. According to her, she started thinking of that when she met Liberian drummer Esther Binta with whom she played in the Navy and Ghana Broadcasting Corporation (GBC) bands.
"I told Esther we should form a band of only women. She agreed but it was hard getting others to join so the idea was shelved but it never left my mind. I started mentioning it again to some friends who encouraged me and even suggested female musicians to contact. I thank God now for making my dream come true".
Apart from the Navy and GBC bands, Della was also a member of Smart Nkansah's Sumsum Band. She has appeared on recordings for other artistes including Jewel Ackah, Lady Talata and Pauline Oduro.
"We also refer to Dzesinyornu as women of colour because we are a colourful group with something up our sleeves which has never been displayed by any Ghanaian Band."

Keyboardist Sita Korley is one of the key members of the band. A student of Methodist University, she was taught by her music teacher father , Satchmo Korley. She has given several classical music recitals at various locations in Accra and says her classical background has come in handy for what she is doing with Dzesinyornu.
"If you can read and play classical stuff, then you should be able to play everything else including jazz, reggae and highlife. I used to play popular music for personal enjoyment but I am glad to be doing that now with a unique band." says the confident young lady.

Guitarist Abena Pomaa was recommended to Della by members of the Octopus band. She has been a guitarist for nearly 10 years and was also taught by her guitarist father , Kwamena Odoom, who used to play for the Stax Dynamics (now Sappers) Band.
"I know people are yearning to see a group like us and I also know that we can go very far if we stay focused."

Bassist Judith Agbottah has learned to play the bass guitar from he brother and like drummer Sarah Owusu, has played with numerous church bands in Accra.
"The electric bass is an instrument I really love and I have always admired some of our own good players like Chicken Chee, Osibio and Slim Amoaka," said Judith.

Percussionist and flutist Feehi Ofoli is a self taught musician. She says she bought the idea of an all-female band the moment Della called and told her about it. She is an experienced player and well known in popular music circles in Accra. Groups she played for include Kusum Ensemble, Sakumo cultural Troupe and Bukum Ensemble.

Dzesinyornu (Women of Colour) is keen to make a good impression on music lovers everywhere and it will definitely be fascinating to see how they kick off their journey into the exciting world of popular music.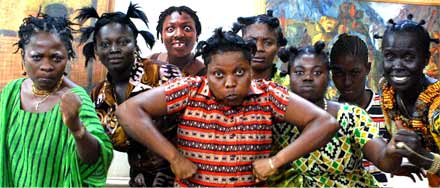 On the picture left to right: Della, Abena, Feehi, Judith, Sita and Sarah


Back to News >>