Latest News
30-04-2009
Dzesi and Della's CD launched despite the rain

Della Hayes and Dzesi, The Women of Colour Band launched, Della Hayes CD 'From Africa with Love' launched, Alliance Francaise full house despite the rain.


From Enjoy magazine Accra as at May 2009
Della Hayes Alliance Francaise Accra

On Friday April 24th at Alliance Francaise in Accra there was so much buzz and in the air was good old Ghanaian music. Inquisitive as I was, I dropped in; on stage doing their own thing were Dzesinyornu (Women of Colour) an all women band made up of Della Hayes-lead vocals, Abena Pooma-guitar, Feehi Ofoli-percussion/flute, Judith Agbottah-electric bass, Sita Korley-keyboards, Sarah Owusu-drums and Dzidsor Mensah – backing vocals.

They have put together a wide repertoire which they describe as 'hopperdepop and happerdepap mixed with a bit of hipperdepip'.
The occasion was the launch of the band as well as the first CD of Della Hayes. From Africa with Love, Volume 1.

Della Hayes the lead vocalist is a Ghanaian, with a career spanning 36 years; she sings a variety of songs and writes and composes most songs herself. The idea to start an all-female band has been with Della Hayes since the early 1990s.
According to her, she started thinking of it when she met Liberian drummer Ester Binta with whom she played in the Navy and Ghana Broadcasting Corporation (GBC) bands.

Apart from the Navy and GBC banks, Della has also played for Smart Nkansah's Sumsum Band and made recordings for artistes like Jewel Ackah, Lady Talata and Pauline Oduro.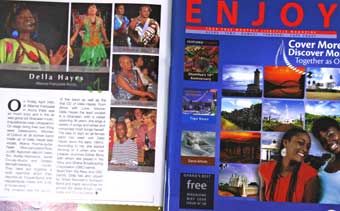 From Daily Graphic as at 2.05.2009
When the Dzesi sound arrived

Trumpeter Joana Denaka and her colleagues in the all-female Dzesi band gave a good account of themselves at the group's inaugural concert at the Alliance Francaise last week.

Dzesi holds a lot promise to bring some freshness to the local music scene. Leader, Della Hayes explained that the band had decided to shorten its name to Dzesi because some people found the original name of Dzesinyornu too much to handle.

The group has definitely created a buzz which they must work had to sustain by challenging themselves to an extensive and captivating height.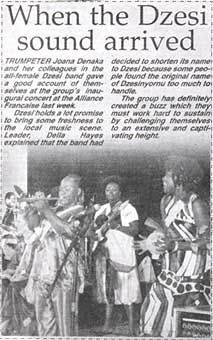 From Graphic Showbiz as at Thursday April 30 – May 6 2009
Colourful Entry for Dzesi

An early evening rain did not prevent several music lovers from turning up at the Alliance Francaise last Friday to see the inaugural concert of Dzesi, the all-female band led on vocals by Della Hayes.

It was a splash of colour as the women came on stage and unfurled the repertoire prepared for the night. They were well-received by the audience who were obviously elated at seeing such an innovation on the music scene.

The band held out quite well and there were moments of brilliant play by some of the members. Joana Denaka on trumpet, for instance showed instances of how mature she is on the horn.

Della Hayes, the brain behind the band carried her petite frame with some style on stage but she could have tried to go the extra mile with more challenging material. She explained that the band had decided to shorten its name to Dzesi because some people found the original name of Dzesinyornu too much to handle.

There are already enquiries about the band for gigs and it would great if they quickly extended their repertoire. It was on the whole a good start the public will surely expect to see Dzesi stay on as a stimulating band ready to cater for discerning music lovers.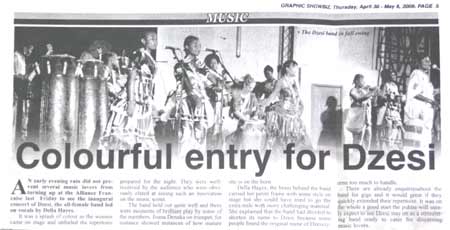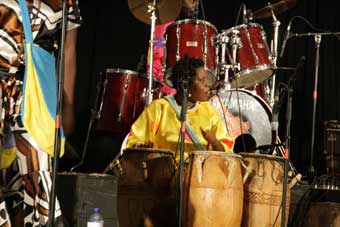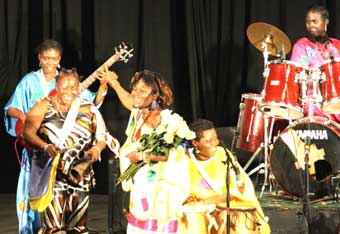 Feehi in action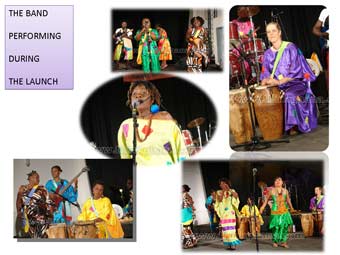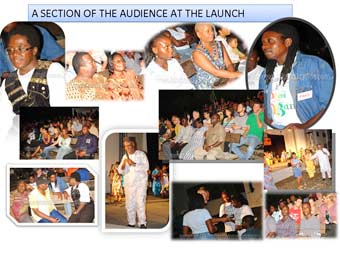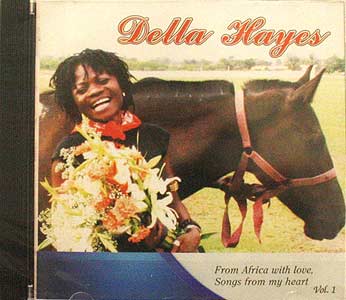 THE CD, finally

Back to News >>