Latest News
29-04-2010
Dzesi celebrates first birhtday party!

Having launched the band on 24th April 2009, Dzesi had its first birthday party on 29th April 2010 at Labadi beach. A few selected friends had been invited and the night was also used to acknowledge some people who had in diverse ways been of great help to their existence and progress.

The list of personalities included their first Music Director, Col. Faat, Nii Korley of Graphic Showbiz, Ken Addy and Kojo Opong Nkrumah of Joy fm, KSM, Agazie, Makafui Manyo of Reiss & Co, Eelco Bakema of Rarity Ltd, David Nii Ardey Ofoliguaye of Bukum ensemble, Sheeba Aryeetey, and Cehpas Sacketey of Alliance Francaise. The rest are Dady Bosco of Adom FM, Geman of Chanel R, James Afedo of BBC and Ekow Anderson of Weekly Fylla, they all received a wooden sculpture.

Della Hayes also thanked Woodin for donating 14-pieces of Woodin cloth.
The celebration came to an end with a sweet birthday song and a colourful cake cutting twist.

And, having used the now famous group picture with the 7 attacking ladies (see home page of this web site) since February last year, the party on the 29th April was also used to take a few pictures of our ladies and create a new "corporate logo"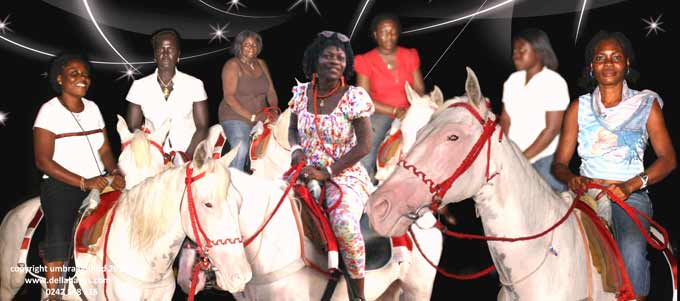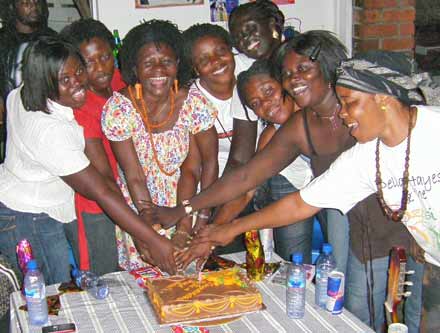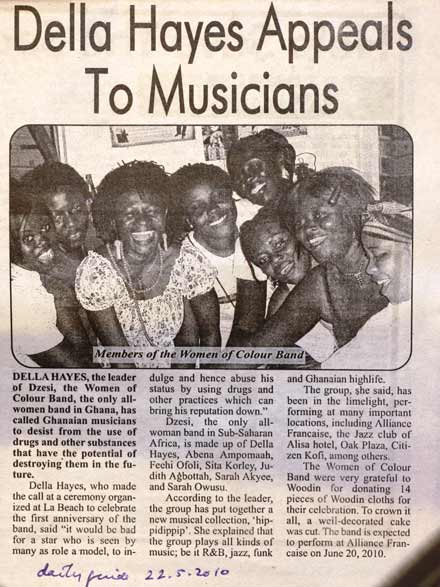 Daily Guide. 22nd May 2010

DELLA HAYES, the leader of Dzesi, the Women of Colour Band, the only all-women band in Ghana, has called Ghanaian musicians to desist from the use of drugs and other substances that have the potential of destroying them in the future.

Della Hayes, who made the call at a ceremony organized at La Beach to celebrate the first anniversary of the band, said "it would be bad for a star who is seen by many as role model, to indulge and hence abuse his status by using drugs and other practices which can bring his reputation down".

Dzesi, the only all women band in Sub-Saharan Africa, is made up of Della Hayes, Abena Ampomaah, Feehi Ofoli , Sita Korley, Judith Agbottah, Sarah Akyee, and Sarah Owusu.

According to the leader, the group has put together a new musical collection, hippidippip. She explained that the group plays all kinds of music; be it R&B, jazz, funk and Ghanaian highlife.

The group, she said has been in the limelight, performing at many important locations, including Alliance Francaise, the Jazz club of Alisa hotel, Oak Plaza, Citizen Kofi, among others.

The Women of Colour Band were very grateful to Woodin for donating 14 pieces of Woodin cloths for their celebration. To crown it all, a well-decorated cake was cut. The band is expected to perform at Alliance Francaise on June 20, 2010.